Why Reliability Matters Most in Medical Device Connectors
You rely on your medical equipment to work flawlessly every single time. When lives are on the line, there's no room for error or uncertainty. That's why you need connectors you can trust to get the job done and stand up to any challenge.
Smiths Interconnect creates specialized connectors explicitly designed for critical care applications. Their connectors have been pushed to the limits through intensive testing to guarantee dependability in even the harshest conditions. Vibrations, shocks, fluids – you name it, these connectors have endured it.
When reliability is non-negotiable, Smiths Interconnect delivers. Their connectors provide the unwavering performance you need to focus on what really matters: your patients. Smiths Interconnect has been creating solutions for the world's most demanding applications. Their medical-grade connectors continue that legacy of excellence, giving you one less thing to worry about so you can concentrate on saving lives.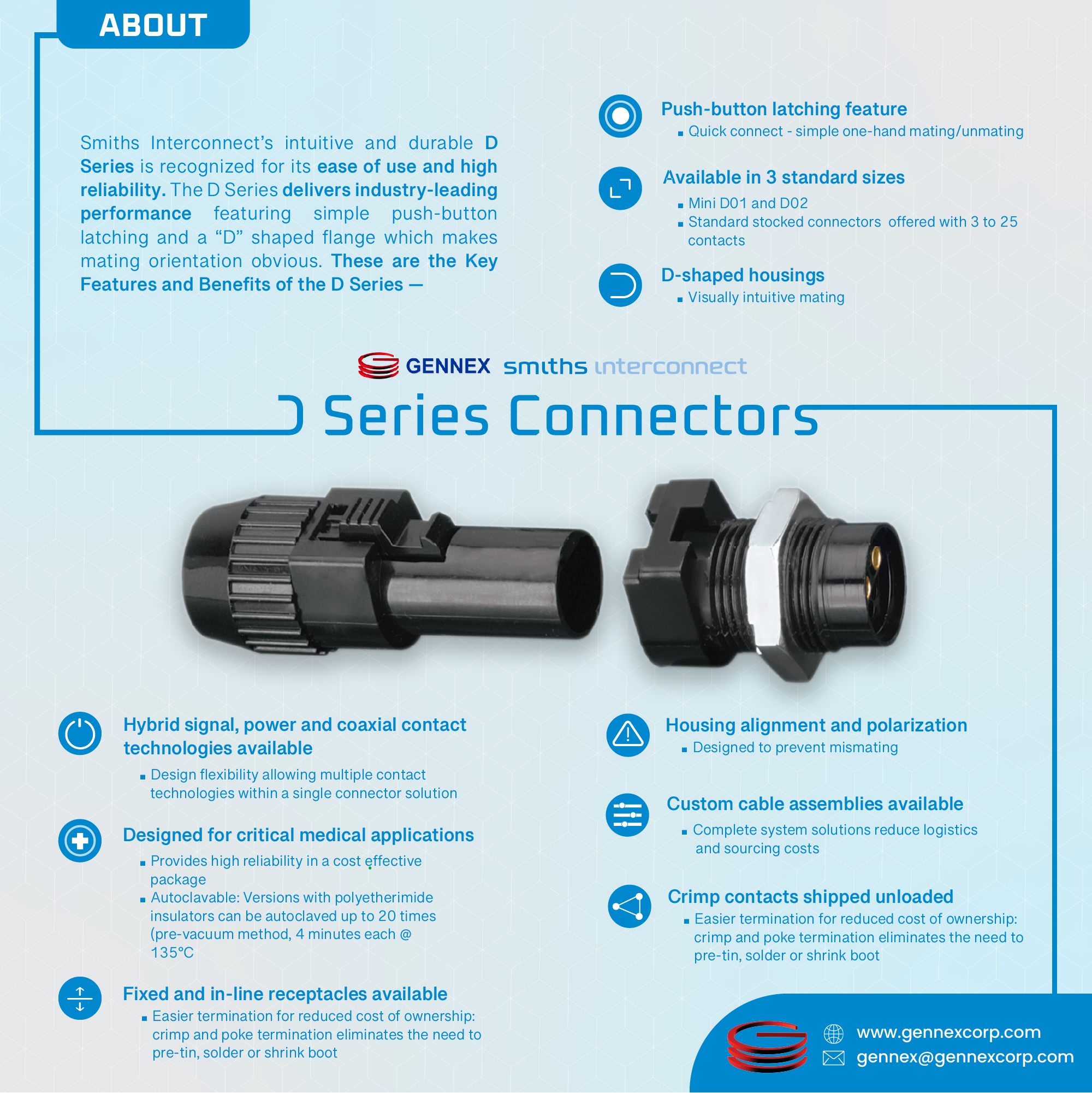 Smiths Interconnect's D Series Connectors: Engineered for Critical Care
When critical care depends on reliable connections, Smiths Interconnect's D Series connectors are engineered to deliver. These connectors incorporate Hypertac® contact technology, providing an optimal connection in even the harshest conditions.
Why Reliability Is Paramount in Critical Care
Reliability means everything when it comes to medical devices, especially in critical care situations. Patients' lives are on the line, and equipment failure is simply not an option. That's why Smiths Interconnect poured decades of experience into creating specialized medical connectors designed to work flawlessly even under the most strenuous conditions.
These meticulously engineered connectors have endured relentless testing to guarantee unparalleled dependability. They continue to operate as intended through repeated sterilization, exposure to harsh chemicals, and mechanical stress from constant plugging and unplugging. You'll have peace of mind knowing Smiths Interconnect's medical-grade connectors are built to last and keep performing precisely as needed.
Reliability also means durability and chemical resistance. Smiths Interconnect's medical connectors are crafted from high-performance polymers and metal alloys immune to corrosion and unaffected by exposure to aggressive disinfectants. They maintain tight seals and stable electrical connections even after hundreds of mating cycles. Such unyielding reliability inspires confidence in the equipment and helps medical staff stay focused on what really matters – patient care.
In critical care, there are no second chances. Equipment must work right the first time, every time. When lives hang in the balance, failure is not an option. Smiths Interconnect's medical connectors are engineered with that responsibility in mind. Their proven dependability and durability deliver the consistent, trustworthy performance that medical devices demand. Reliability – it's what patients and medical professionals deserve, and Smiths Interconnect delivers.
Dependable Performance
The D Series connectors have undergone rigorous testing to ensure unwavering performance in extreme environments. They can withstand high levels of shock, vibration, and temperature fluctuation, providing the reliability needed for life-supporting applications. 
Ease of Use
The D Series makes connecting and disconnecting quick and effortless. The connector's intuitive push-pull design allows for simple one-handed operation, while the audible click provides confirmation that a secure connection has been made. The connectors are also keyed to prevent mismating, ensuring the proper connection is made every time.
Customizable Solutions
We offer the D Series in a variety of termination styles to suit your specific needs. Options include PCB mount, cable mount, bulkhead mount, and panel mount. We can also customize contact layouts, pin counts, materials, plating, and more to meet your exact requirements. If your application calls for a non-standard solution, our engineers will work directly with you to develop a tailored product.
The D Series connectors from Smiths Interconnect provide unwavering reliability and performance for critical applications where failure is not an option. With highly customizable solutions and decades of experience, Smiths Interconnect is your trusted partner for mission-critical connections.
Hypertac® Contact Technology: Enabling Dependable Performance
D Series Connectors Smiths Interconnect's D Series Connectors, incorporating Hypertac® contact technology, have been engineered to provide ease of use during the connection and disconnection process. Hypertac contacts are made of a proprietary alloy that creates a gas-tight seal and a robust connection able to withstand high mating cycles.
Superior Design for Critical Care
The D Series medical connectors feature a threaded design that creates a secure connection, preventing accidental disconnects that could prove dangerous in critical care settings. The connectors have an extended tip with an internal stop that guides proper alignment during mating for fast, foolproof connections.
Unparalleled Reliability
The connectors can withstand exposure to harsh chemicals, high and low temperatures, humidity, and physical stresses while maintaining signal integrity. They are well-suited for use in diagnostic imaging equipment, patient monitoring systems, and other medical devices where reliability is paramount.
Simplified Integration
The connectors provide high-density in a small footprint, conserving valuable space. They are fully RoHS and REACH compliant for environmental sustainability.
The D Series medical connectors from Smiths Interconnect provide the uncompromising performance and dependability needed for critical care applications where failure is not an option. Our connectors are engineered to the highest standards to give medical equipment manufacturers and healthcare providers the reliability and safety they require. Dependable connections, no matter the challenge.
Applications for Smiths Interconnect's Medical Connectors
Smiths Interconnect's medical connectors are designed for use in critical applications where reliability and performance are paramount. Our connectors undergo rigorous testing to ensure they can handle even the harshest conditions, from extreme temperatures to shocks and vibrations. This makes them ideal for medical devices where failure is not an option.
Patient Monitoring
Patient monitoring equipment like ECG machines, pulse oximeters, and blood pressure monitors require dependable connections. Our connectors, cables, and cable assemblies are built to precise standards to accurately transmit signals without interference or signal loss. This helps ensure medical staff receive the correct vital sign information to properly monitor patient health.
Diagnostic Imaging
Diagnostic imaging systems such as MRI, CT, and X-ray machines generate and transmit high volumes of data. Our high-speed connectors and cable assemblies can handle these intensive data loads while also protecting sensitive signals from electromagnetic interference. This results in fast, high-resolution images that allow radiologists and technicians to make accurate diagnoses.
Surgical Equipment
During surgeries, surgeons rely on equipment like electrosurgical units, patient positioning systems, and surgical lights. Our connectors provide a safe, secure connection for power and data transmission for surgical equipment. They are chemically resistant to harsh disinfectants, feature a rugged design, and meet necessary medical standards to ensure equipment functions properly throughout surgical procedures.
Life Support Devices
For life support devices such as ventilators, infusion pumps, and defibrillators, failure is not an option. Our medical-grade connectors and cable assemblies offer an ultra-dependable connection that gives these critical life support systems the highest level of reliability. They feature redundancies and safeguards to minimize the risk of disconnection or signal interruption that could threaten a patient's life.
Smiths Interconnect's medical connectors provide an unwavering connection you can count on for the devices that matter most. Our connectors are engineered and tested to the highest standards so you can have confidence in their performance, no matter the medical challenge.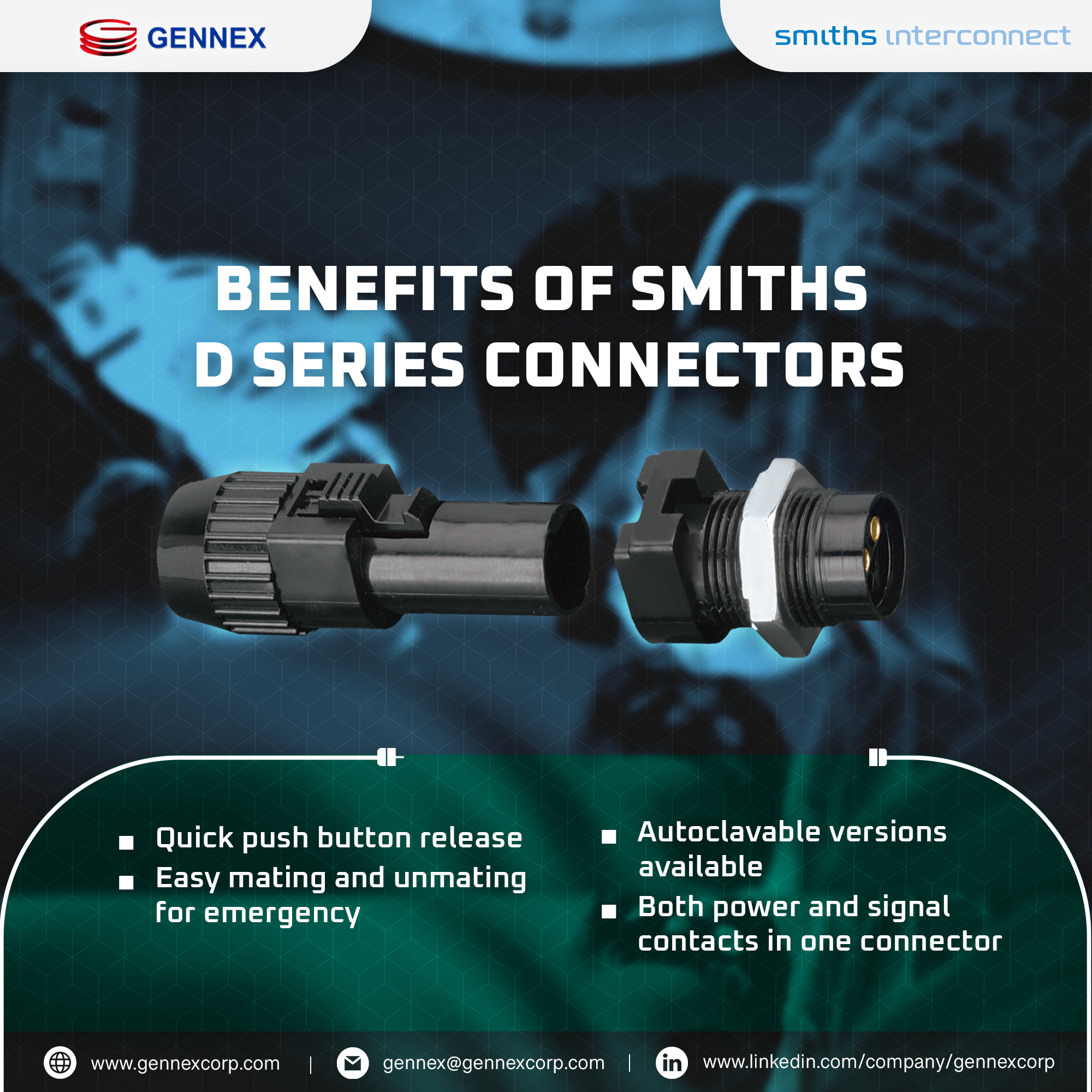 Why Gennex?
When critical care depends on secure connections that withstand the challenges of shock, vibration, and harsh environments, Smiths Interconnect delivers. Their medical connector solutions are engineered for maximum reliability so you can focus on what really matters – helping patients. After all, in critical care situations, failure is not an option. With Smiths Interconnect, you get connections you can count on every single time.
When it comes to connections that you can trust, count on the experts in delivering interconnect solutions for high-reliability applications. Smiths Interconnect is known for providing reliable connections, even in the most challenging situations.
As an authorized distributor of Smiths products, Gennex is committed to meeting your requirements. Our team of technical experts is available to ensure a convenient experience for you message us at https://gennexcorp.com/contact-us/ , you may also visit us at: https://gennexcorp.com/. To request a quotation go to  https://gennexcorp.com/contact-us/  

We don't just provide solutions – we stick with you through every phase. From strategic planning to implementation to ongoing optimization, we're there to answer questions, troubleshoot issues and make recommendations that propel your business forward.

Because in Gennex, complexity is our challenge; simplicity is our solution.